workshops ::.

Nikolai Terentiev presents:


Workshop: "Language of Clowning and Pantomime"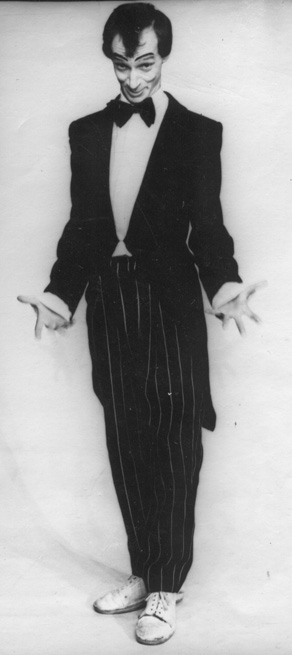 Place: Toronto, Canada (exact location to be advised)
Duration: 3 days, 3 hours per day
Date: By request (please contact Nikolai)
Time: 11:00 am - 2:00 pm every day
Location: Russian Music Drama Youth Center, 48 Alness Road (Finch and Dufferin)
Description: the essence of miming and clowning arts concept of the European and Russian theatre.

Following topics in two parts:

I. Clowning

- rhythm, character
- the changes of rhythm
- atmosphere, the conflict of atmospheres
- gags
- walks
- costume (80% of character creation)
- psychological gesture
- the seed of character
- the cross-action
- internal monologue
- styling of sound and movement
- "Clowning is a chain of small or big events."- Stanislavski
- "Non-Euclid's twisting of space" – the principle of Chinese theatre
- the saving of face until the next event, with the following changes. – Principle of Japanese Theatre - make-up
- clown may not be smart
- clown may not be evil
- clown as an animal
- clown as a child
- mistakes: identification of yourself as the character, etc
- the method of alienation by Bertolt Brecht

II. Pantomime

- physical style
- illusion
- fixation
- impulse
- wave
- opposition
- orientation in space
- static movement
- dynamic movement
- close-up
- showcase of big ideas by the means of small movement (laconicism)
- metamorphosis
- transformation big to small and the contrary
- resistance
- law of the economizing of the body
- the art of mimic (face expressions)
- rhythm
- statuesqueness
- work with masks
- inertia of movement
- ellipse – repetition of action on a smaller scale

You will get a Certificate about completion of the workshop with the world-class master of Clowning and Pantomime - Nikolai Terentiev.

Let me know if you are interested. It will be great if you could bring somebody with you, then you'll get a discount.
If you can't come this time let me know if you could come another time.

Regarding place to stay: you can join Couch Serfing and register there. It's an amazing community (6 millions people already) for traveling around the world and getting a couch to stay at a new place for FREE. The idea is to find new friends from Couch Serfing community in Toronto (7000 members) for just three nights.
Check it out!